Welcome to Al Capone Limousine!

The Area's Best Party Buses!
When you need a party bus in Minnesota or Wisconsin, Al Capone Limousine is your ride. Our fleet has the best selection of clean, classy buses for any occasion including:

• Weddings

• Proms and Dances
• Bachelor/ette Parties
• Anniversaries
• Birthdays
• Concerts
• Light Tours
• City Tours
• Youth Organizations
• Church Groups
• And More!

With Al Capone, you'll have the ride of your life! All our party buses have perimeter seating, multi-color limo and diode lighting, 32" flat screen TVs, touch screen DVD, and state of the art stereo systems. Each bus seats up to 15 people, so sit back, relax and get the party started with Al Capone!

When you call us at (218) 428-7433 or email us at: alcapone@alcaponelimos.com


You'll get the best quality vehicle, service and driving in Minnesota and Wisconsin! Make sure to ask us about our student discounts!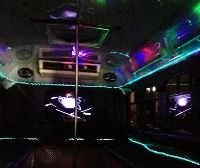 We accept Visa and Mastercard
Inside of 30 days there will be a Cancellation Fee Total 3 Hours of Minimum Charge